Our On-Demand Courses
Start building a stronger business today
Meet the Team
50+ Years of Collective Experience
Mia Littlejohn
Co-Founder
Mia studied Culinary Arts at Kendall College with a focus on food education, food history, and community impact. For four years Mia was a Senior Contributor and Marketing Director for The Feed Podcast Network. Eat Feed Podcast launched in 2005 celebrating culinary traditions with more than 40,000 listeners and eventually became a cookbook. Mia was also the Managing Editor of DiningOut Magazine, worked as a garden and nutrition educator for the Harlem Children's Zone, has created more than 500+ original recipes for clients across the country, and worked as the Culinary + Cocktail Consultant for Skinnygirl Cocktails.
Michael Robinson
Co-Founder
From franchises to serial entrepreneurship, Michael Robinson has spent nearly 2 decades immersed in the Food and Beverage industry. After selling two successful food service ventures and helping scale a beverage brand nationally as COO, he shifted his focus on investing in and supporting emerging restaurants and CPG companies, which eventually led to founding Proof. He specializes in finance, from cost analysis to forecasting to fundraising capital, as well as operations.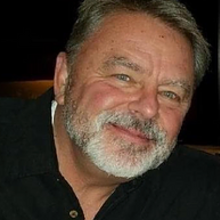 Stan Stout
Senior Instructor
Stan Stout has more than 25-Years of C-Level, leadership and consulting experience specializing in Multi-Brand Retail and Restaurant companies. His primary focus is leading brand growth, brand turnarounds and risk assessment/mitigation. A sample of his clients: Eat Here Brands (Babalu Tacos and Tapas, Table 100, Interim Restaurant & Bar) Inspire Brands (Arbys, Sonic, Buffalo Wild Wings, Rusty Taco)Piece of Cake 64 Holdings Popeyes Louisiana KitchenMcAlister's and NewksTaco MacTin LizzySticky Fingers Stan is a graduate of UTC, a Certified Coach and past board member of the Georgia Restaurant Association.
What companies should apply for the programs?

Proof programs are built for food and beverage companies and entrepreneurs operating in a variety of sectors, including independent restaurants navigating the evolving landscape of the COVID-19 pandemic, early- to mid-stage consumer goods companies, managers looking to expand their toolbox, and artisan food and beverage companies looking to grow strategically.

What is the cost of the Program?

Our programs are designed to be taught in partnership with local ecosystem builders like the Chambers of Commerce or area Small Business Development Centers. Thus, the program cost is usually covered by our partners and not passed on to individual operators.

What can I expect to get out of the Program?

Our programs help participants identify and solve immediate problems while thinking strategically about stabilization, operational efficiency, and future growth. Beyond the coursework, community of peers, and access to industry experts, you'll find that you emerge from the course with a strategic roadmap and an understanding of your company's strengths, weaknesses, opportunities, and challenges, as well as a renewed passion for continued success.
"Having the opportunity to review our operations and dissect our pain points with industry pros who have been in the business for years was an IMMENSE value add to us."
Good Batch Mama | Kingsport, TN
"The way the class was structured as far as dealing with the pandemic and the crisis management that followed was very impactful. This year has been a fast year for me and I knew I needed to scale and Proof coached me on how to scale properly."
Party Bites | Chattanooga, TN
""Every course was beneficial to me and my business."" Martha's Kitchen | Philadelphia, PA
""I found that every session provided me with amazing information, and tools to utilize in growing our business." Heard Dat Kitchen | New Orleans, LA
"It's given me a great sense of confidence, because now when I'm making decisions for the restaurant, I have an opinion from someone who is experienced and gone through what I am now." Lil Mama's | Chattanooga, TN
Proof is an accelerator, incubator, and bar based in Chattanooga, TN. Founded and led by food and beverage industry veterans, the mission of Proof is to support owners and operators in the industry through programs, resources, and community. 
Collectively the Proof team has 50+ years of experience, with expertise ranging from management training to operations to marketing (and more). To date, Proof has accelerated hundreds of companies through its programs.
Learn more about Proof at proofincubator.com.